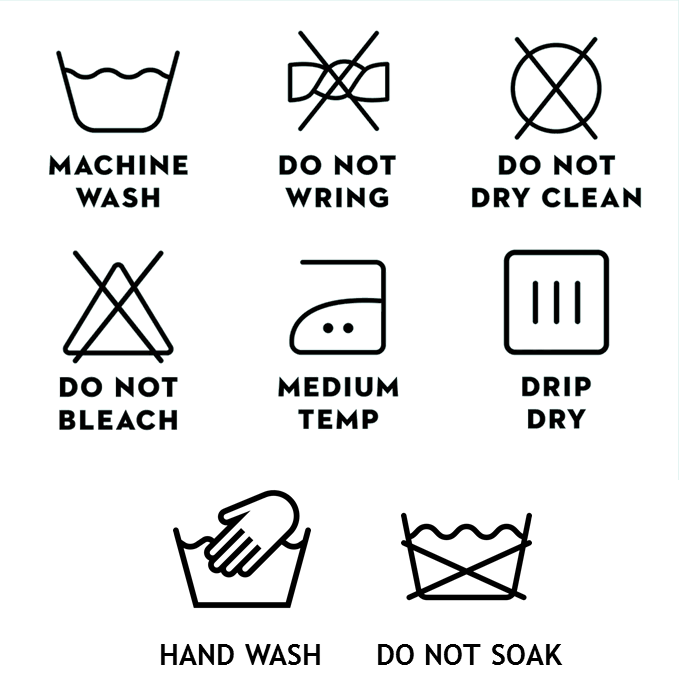 温馨提醒:
· 新买的校服,建议过了一次清水才穿
· 不管手洗还是洗衣机洗都是可以的
· 衣服或者裤子在洗之前把他反过来,在晒的时候也是一样,可以让它们的色泽更加耐久
· 千万不能用漂白水
· 白色校服和深色的衣物一定要分开洗
· 烫的时候请注意熨斗的温度不要太高,避免损坏布料
· 假设校裙的腰带绑了后太松,可以自行拆除钮扣,然后缝在适合的位置
· 2 in 1 连衣裙千万不可以浸隔夜。清洗了必需马上挂起来晒干, 以避免白色的部分染到蓝色
· 如需要,可以低温烘干
Peringatan:
· Pakaian atau seluar hanya boleh dipakai selepas dicuci tanpa detergen bagi mengelakkan kuman atau kotoran bagi kali pertama.
· Terbalikkan pakaian atau seluar sebelum dicuci, dan begitu juga apabila dikeringkan. Ia boleh menjadikan warnanya lebih tahan lama.
· Jangan rendam baju semalaman.
· Asingkan pakaian warna terang dan warna gelap semasa mencuci.
· Jangan gunakan peluntur (bleach) untuk mencuci pakaian atau seluar.
· Apabila pakaian sudah dibilas, sila ratakan sebelum dijemur. Ini adalah tips untuk mengurangkan kedutan dan senang digosok nanti.
· Jika anda menggosok baju atau seluar,sila guna seterika pada suhu yang bersesuaian bagi mengelakkan fabrik terbakar atau rosak.
· Jika pinggang kain terlalu longgar,anda boleh melaraskan butang anda dengan memotong benang butang dan jahit semula di tempat yang anda mahukan.
Friendly tips:
· It is recommended to rinse it with water (do not use detergent) before wearing it for the first time.
· Turn clothes or pants inside out before washing, and do the same when drying, to make their color last longer
· Never use bleach to wash clothes or pants
· White school uniforms and dark clothes must be washed separately
· When ironing, please make sure the temperature of the iron is not too high to avoid damaging the fabric.
· If the belt of the school skirt is too loose after being tied, you can remove the button and sew them in a suitable position.
· 2 in 1 dresses should never be soaked overnight. After washing, it must be hung up to dry immediately to prevent the white parts from being stained blue.